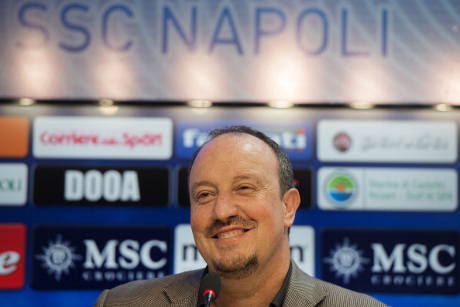 Naples – Rafael Benitez welcomed the success of Napoli bring Gonzalo Higuain. Additionally Benitez also discuss other targets Il Partenopei, Jackson Martinez.
Higuain step away from joining Naoli after passing a medical and will be introduced to the San Paolo next Monday, with a new loan from Liverpool's goalkeeper, Pepe Reina.
Despite having to spend deep to bring Higuain (37 million euros), but the Real Madrid striker was considered the right person replaces Edinson Cavani who bought Paris St Germain.
Moreover, the ratio of Higuain goal with Real Madrid since joining in 2006 was so good that 122 goals from 266 appearances in all competitions. Reflecting on the statistics, Benitez was so optimistic Higuain could play well with Napoli.
"Higuain is a player who can score goals very much," said Benitez as reported by Football Italia.
"The club is doing something great, ranging from President Aurelio De Laurentiis to Director Riccardo Bigon. We want to build the project to be a winning team for three or four years into the future, by bringing in many players," he continued.
"We try to create a strong future for this team, including a new training camp and with the purchase of this player, I think we can